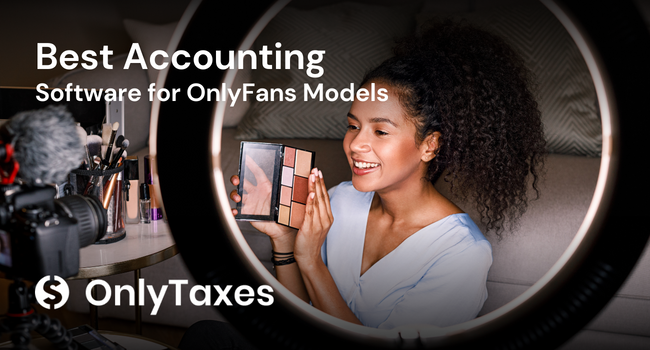 The OnlyFans platform hosts a variety of content creators. Models and artists can generate substantial income on these platforms, so their side hustles oftentimes become full-time businesses. However, even models and performing artists need to keep track of their financial performance, and accounting software makes base-line bookkeeping much more accessible to accounting novices. In this article, we'll discuss some of the best accounting software options for OnlyFans models. Keep reading to find out how these easy-to-use options can streamline your business's accounting tasks and leave you with more time to focus on expanding your growing business.

What's the Best OnlyFans Accounting Software?
OnlyFans gives videographers, models, actors, and other artists access to a valuable income stream with all-in-one solutions for turning their hobbies into a business. The platform can process payments, including e-checks, credit cards, PayPal, and others, and it gives users access to a suite of tools that will help them manage their online presence. Many models favor OnlyFans because its processing fees are relatively small, allowing artists to keep the lion's share of their earnings. 
Between built-in payment processing and subscriber management tools, OnlyFans provides almost everything a model needs to launch, maintain, and grow an online business. However, the platform stops short of providing the accounting and bookkeeping tools users need to track their financial performance.

Successful models will quickly realize that they need to add accounting software to their business toolbox. However, with so many options on the market, it's easy to get overwhelmed, especially if you're not familiar with accounting and bookkeeping practices. The best accounting software for OnlyFans models is simple, intuitive, and easily integrates with your bank accounts. Preferably, your accounting software should also have the capability to automatically generate key financial reports based on your data. With these features at your disposal, you're well on your way to a well-managed and organized accounting system.

We've identified some of the best options available for OnlyFans entrepreneurs in this blog post. Each of these options includes the vital features discussed in the previous section, but they differ in a few key regards. Each option is more than capable of meeting your accounting needs, but you should try them all to determine which one best suits your preferences.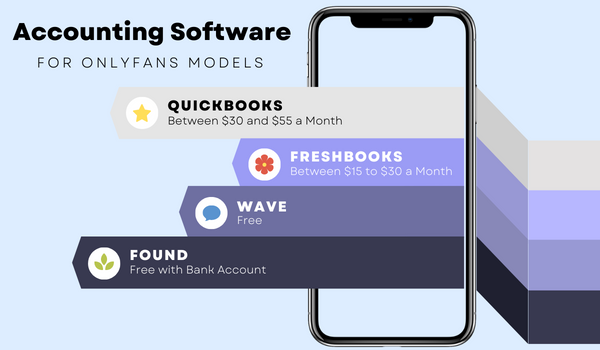 QuickBooks Online
QuickBooks Online offers four different plans, ranging from basic to most comprehensive. Most OnlyFans models organize their businesses as sole proprietorships, so their accounting needs are relatively simple. Either QuickBooks' Simple Start or Essentials plan, $30 and $55 respectively, should be more than enough for most models. These subscriptions include the following features and much more:

Track income, expenses and cash flow

Generate invoices

Produce periodic reports

Keep track of work mileage

Apply tax deductions

Store photos of receipts
You can automatically connect your banks and credit cards to QuickBooks so all of your transactions will automatically pass over to the software. QuickBooks can also interface with many popular tax preparation programs, like TurboTax and others. The software can also calculate sales tax based on the user's address. If you log your business miles for tax purposes, Quickbooks also offers a mobile app that can automatically track and catalog your business miles.

QuickBooks Online is one of the most popular accounting software choices for beginning business owners. It offers a comprehensive feature set at an excellent price, and it's widely accepted as the standard among tax & accounting pros. QuickBooks also offers several service tiers ranging from self-employed to enterprise, so, if your side hustle becomes an empire, you can count on QuickBooks to meet your needs no matter how big your business gets.

FreshBooks
FreshBooks is a respected system for its project management capacity, i.e., tracking hours, mileage, and financial inputs. It also tracks pre-payment arrangements and notifies the user if there's an overpayment. The system also supports double-entry accounting, but most models won't require this level of accounting complexity. However, it's nice to have the feature if you expect to issue a lot of invoices, and it has potential to provide more accurate financial projections depending on the nature of your business. It also supports payments through an exclusive online portal, which can be very useful if you have clients outside of OnlyFans.
Many users praise FreshBooks' customer service & support, which are easily accessible via telephone, email, or chat. Many platforms don't offer customer service via phone, and you may appreciate having the option if you ever run into an issue.

FreshBooks offers a 30-day trial period. Then, monthly rates range from $15 to $30 per month.
Wave
Wave offers 100% free accounting software that's easy-to-use and jam-packed with sophisticated features. The dashboard is incredibly intuitive, so you can easily navigate the platform and accomplish your goals with little to know training. Wave offers simplified bookkeeping with bank account and credit card integrations, automatic reports, and much more.

Wave's accounting & bookkeeping services are 100% free, but the company makes up for the cost by billing a 1% commission on ACH payments made through their invoicing feature. Howver, the rate goes up if you choose to accept credit card transactions. On the grand scale of things, Wave's 1% fee is very reasonable and a downright bargain when compared to PayPal and other payment processing service. Wave is also working on a business banking feature that would allow users to access their funds directly through Wave via an integrated bank account.
The online help center offered by Wave conveys helpful information down to the most rudimentary questions and issues. This comes in the form of textual Q&As and bite-size video tutorials that do not load the viewer down with too much information. In addition, a vibrant community forum helps users connect with other content creators and small business owners for mutual support and knowledge exchange. However, keep in mind that Wave is designed for small businesses, so you may outgrow it if your business grows into a large organization.

Found
Found is an accounting and banking system that is free for self-employed individuals. A well-integrated system, Found manages invoicing, payments, banking, and tax calculations on a paperless and trackable basis. For example, Found can calculate federal and tax obligations in real-time, an important feature when reporting or projecting months down the road. Additionally, it automatically categorizes expenditures to identify deductible amounts better. Although Found acts as a bank, no minimum balances are required, nor are hidden fees imposed. Neither is any credit check needed to access Found's services. New content creators will find a welcoming platform at Found.
OnlyFans Accounting Software Conclusion
Accounting software gives OnlyFans models an affordable option for managing their business's finances. If you can't afford a dedicated bookkeeper, it's the best value for your buck. However, it's not an end-all for you tax and accounting needs. You will still need to file your annual tax return, make quarterly estimated tax payments, and more. For many models, this seems like a lot of work, and that's where we come in!
If you want to wash your hands of bookkeeping & accounting entirely, we can help! Only Taxes can take tax and accounting off your plate entirely, so you can focus on being the start that you are. Contact us today to see how much time & money you can save with Only Taxes!